Manaslu Circuit Trek With Tsum Valley Trek (21 days)
Itinerary Plan
Day 1: Drive from Pokhara to Soti Khola (710m) – 11-12 hours
Day 2: Trek from Soti Khola to Machha Khola (900m) – 6-7 hours
Day 3: Trek from Machha Khola to Jagat (1410m) – 6-7 hours
Day 4: Trek from Jagat to Lokpa (2240m) – 6-7 hours
Day 5: Trek from Lokpa to Chumling (2363m) – 6-7 hours
Day 6: Trek from Chumling to Chhekampar (3030m) – 4-5 hours
Day 7: Trek from Chhekampar to Nile (3361m) – 5-6 hours
Day 8: Trek from Nile to Mu Gompa (3700m) – 3-4 hours
Day 9: Rest and exploration day in Mu Gompa – No trekking
Day 10: Trek from Mu Gompa to Rachen Gompa (3240m) – 4-5 hours
Day 11: Trek from Rachen Gompa to Chumling (2363m) – 6-7 hours
Day 12: Trek from Chumling to Deng (1804m) – 6-7 hours
Day 13: Trek from Deng to Namrung (2630m) – 6-7 hours
Day 14: Trek from Namrung to Lho (3180m) – 4-5 hours
Day 15: Trek from Lho to Samagaon (3530m) – 3-4 hours
Day 16: Trek from Samagaon to Samdo (3860m) – 3-4 hours
Day 17: Acclimatization Day at Samdo – Rest and Explore Around Tibet Border
Day 18: Trek from Samdo to Dharamsala/Larkya Phedi (4460m) – 4-5 hours
Day 19: Cross Larkya La Pass (5160m) and trek down to Bhimthang (3720m) – 8-9 hours
Day 20: Trek from Bhimthang to Dharapani (1960m) – 7-8 hours
Day 21: Drive from Dharapani to Besishahar and then to Kathmandu – 8-9 hours.
Note: The above hours required are approximate and may vary depending on factors such as the trekking pace, weather conditions, and the physical fitness of the trekkers. It is important to properly acclimatize and pace oneself during the trek to avoid altitude sickness and ensure a safe and enjoyable trekking experience.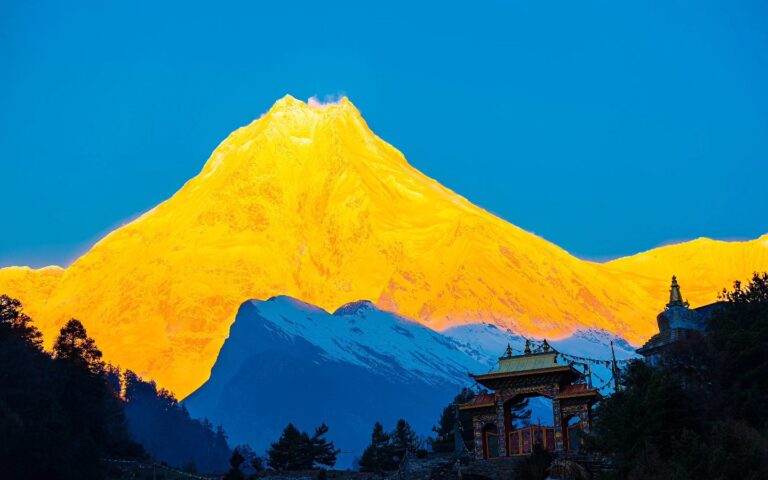 Total Cost
USD $2100 per person.
The cost includes:
-Two Restricted Area Permit for Manaslu and Tsum Valley.
-MCAP permit.(Mandatory documents for trekking in Manaslu region.)
-ACAP permit and TIMS card(Mandatory documents for trekking in Annapurna region.)
-Licensed Professional Trekking Guide.( Fees, Food, Accommodation, Insurance)
-Supporter (One for each guest).
-Food: 3 meals a day( Breakfast, Lunch and Dinner that you can choose from the menu in trekking tea houses.)
-Accommodation ( Basic Private Tea House Accommodation in the trekking area.)
The cost excludes packaged drinks and food items from shops on the way.