'For all of your trekking needs'
We are a family originally from the foothills of the Annapurna Mountain range. We started our business in Pokhara as ' The Mountain House' which is our guest house in Pokhara.
As we always have been mountain enthusiasts, with time and experience in trekking, our trekking company was established in the year 1997. We aim to reflect our sense of social and environmental responsibility while keeping our guests' safety and comfort in the first priority. We provide trainings and job opportunities to the locals and we do not litter our trails.
We would love to show our beautiful culture and nature to the world.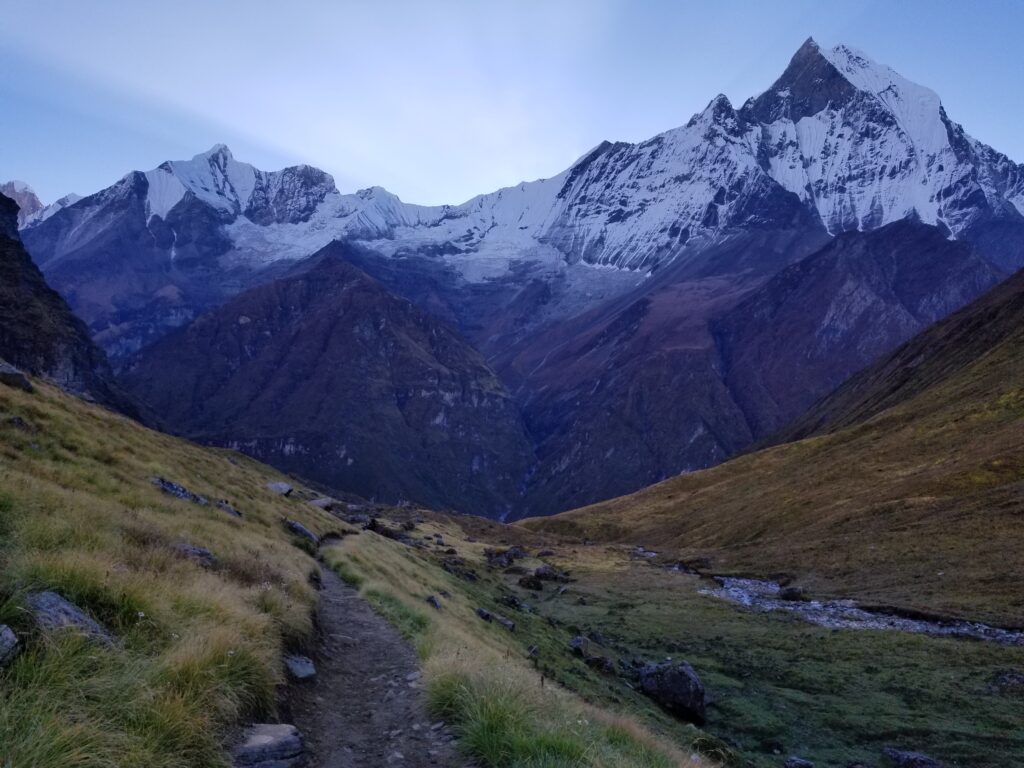 The Annapurna Base Camp Trek is a popular and scenic trekking route in Nepal that leads to the base of the Annapurna mountain range. The trek offers stunning views of snow-capped peaks, traditional Nepalese villages, and diverse flora and fauna. The trek has a one of a kind 360 degrees mountain view from where you can observe 8000 meters peak right above you from 4130 meters altitude.
The Mardi Himal Trek is a relatively new and less traveled trekking route in Nepal that offers breathtaking views of the Annapurna mountain range. This off-the-beaten-path trek takes you through traditional villages, dense forests, and high altitude landscapes, culminating in stunning panoramic views from the Mardi Himal Base Camp. Mardi Himal Trek takes you to the highest altitude of 4500 meters right on the base on Mardi Himal. The trek is relatively unique as it is ridge trek from where you can also see close view of the high peaks as well as Pokhara towards south.
The most popular trekking routes in Nepal include the Poon Hill Trek, the Everest Base Camp Trek, the Annapurna Base Camp Trek, the Mardi Himal Trek, the Annapurna Circuit Trek, the Langtang Valley Trek, and the Manaslu Circuit Trek. Each of these treks offers a unique experience, with stunning views of the Himalayan mountains, diverse landscapes, and cultural immersion. The Everest Base Camp Trek is the most iconic and challenging, while the Annapurna Circuit Trek is renowned for its diversity of landscapes and cultural experiences. The Langtang Valley Trek is a relatively short and less challenging trek that offers a glimpse into the Tamang culture, and the Manaslu Circuit Trek is a remote and off-the-beaten-path trek that takes you through some of Nepal's most remote villages and valleys. Mardi Himal Trek and Poon Hill Trek are preferred by those who have short duration of trek from 4 to 6 days.
Moreover, treks like Mohare Danda Trek, Macchapucchre Model Trek, Khopra Ridge- Khayer Lake Trek are also starting to get reach to many travellers as tea houses are being developed in those areas of Annapurna Conservation Area.
We organize:
-Full Package Trekking Tours( Annapurna, Everest, Langtang, Manaslu and many more regions within Nepal.) From beginner friendly hikes to moderate treks to difficult passes, we do them all.
–Licensed Professional Trekking Guide and  Supporter Service.
The price is USD $30/day and USD $25/day  respectively. It includes their food, accommodation, fees, insurance and company fees and taxes.
-Permit card and TIMS(Trekker's Information Management) card which are mandatory documents for trekking in Nepal.
Normal entry permit cards costs Npr 3000/person and TIMS is Npr 2000/person which is less than USD $40 in total.
-Transportation, Hotel Reservation, Rafting, Paragliding, Ultralight Flight, Jungle Safari and many more adventures.
We are a team of very well knowledgeable and experienced trekking operators and guides. We provide best value packages to our guests. Feel free to contact us to arrange your adventures, trekking and travel in Nepal.
The Trek was absolutely fantastic. Myself and 3 friends did Mardi Himal and Nabin helped organise every step. The whole thing was seamless. Also their hotel, The Mountain House is a fantastic place to stay while you're in Pokhara. Nabin and his family are so warm and welcoming it feels like a home away from home. The rooms are bright and clean with very comfortable beds. The location is also fantastic, only a 2 minute walk from the heart of lakeside.
Wonderful trek to Tilicho Lake
Great experience! Faultless travel arrangements with flawless execution. Not to mention wonderful hospitality. Highly recommend!
Simply the best
Daithí O'Raghaill
2023-04-20
Our group had a great trek up Mardi Himal.
bidur banstola
2023-04-18
For the best of experiences. Great service. Will definitely choose Mountrance over and over for coming treks.
AM Foncardas Mananquil
2023-04-12
The ABC treks was wonderfully arranged for us by Nabin. Looking forward to much more treks in the upcoming years . An agency you can count upon
Just pure excellence. One of the best trips I had. I did Khopra Trek with this company and the service was amazing. Planning another trip with this company.
Explore The treks of Nepal
Nepal is a trekking paradise with a diverse range of landscapes, from the rugged Himalayas to the lush jungles of the Terai. Trekking in Nepal provides an opportunity to immerse yourself in stunning natural beauty, experience traditional Nepalese culture, and challenge yourself physically and mentally. Whether you are an experienced mountaineer or a first-time trekker, Nepal has a trekking route for everyone, with a plethora of options ranging from easy and short hikes to long and strenuous expeditions. Additionally, the warmth and hospitality of the Nepalese people, along with their rich culture and cuisine, make Nepal a destination worth visiting time and time again. Nepal is home to some of the world's most famous trekking trails, attracting adventure seekers from all over the world.