Mardi Himal Trek ( 5 days)
Itinerary Plan
Day 1: Pokhara to Kande to Pittam Deurali
Take a taxi or private car to Kande (about an hour's drive from Pokhara)
Begin trek from Kande to Deurali (2100m)
Approximate trekking time: 6-7 hours
Stay overnight in Pittam Deurali
Day 2: Pittam Deurali to Low Camp
Trek from Deurali to Low Camp (2970m)
Approximate trekking time: 5-6 hours
Stay overnight in Low Camp
Day 3: Low Camp to High Camp
Trek from Low Camp to High Camp (3540m)
Approximate trekking time: 3-4 hours
Enjoy the stunning views of Annapurna South, Hiunchuli, and Machhapuchhre (Fishtail)
Stay overnight in High Camp
Day 4: High Camp to Mardi Himal Base Camp and back to High Camp
Trek from High Camp to Mardi Himal Base Camp (4500m) and back to High Camp
Approximate trekking time: 6-7 hours
Witness the breathtaking panoramic views of the Himalayas
Stay overnight in High Camp
Day 5: High Camp to Siding Village to Pokhara
Trek from High Camp to Siding Village (1280m)
Take a jeep from Siding Village back to Pokhara (about a 2-3 hour drive)
Approximate trekking time: 5-6 hours
Enjoy a relaxing evening in Pokhara
Note: The itinerary can be modified according to your preference and the time you have available.
We prepare customized and flexible itinerary for all our guests.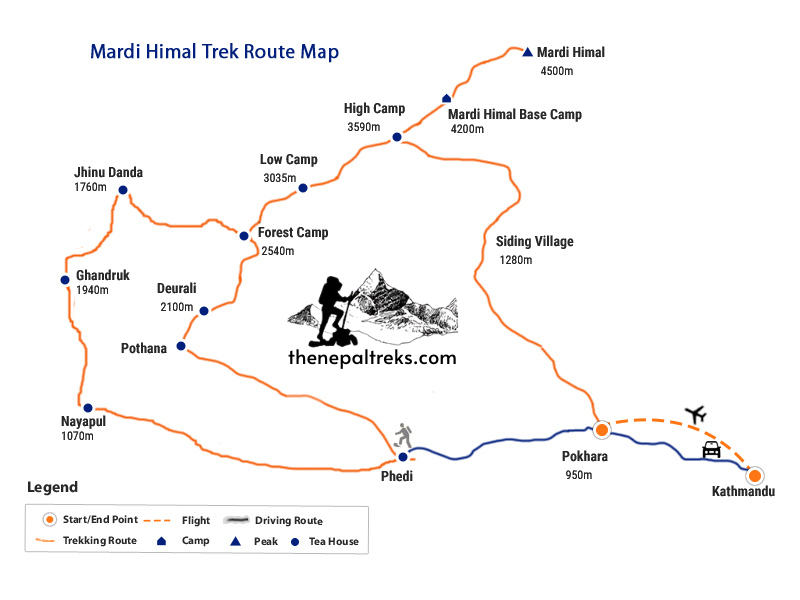 Total Cost
USD $350 per person.
The cost includes:
-ACAP permit and TIMS card(Mandatory documents for trekking in Annapurna region.)
-Licensed Professional Trekking Guide.( Fees, Food, Accommodation, Insurance)
-Supporters.
-Food: 3 meals a day( Breakfast, Lunch and Dinner that you can choose from the menu in trekking tea houses.)
-Accommodation ( Basic Private Tea House Accommodation in the trekking area.)
-Private Transportation (Both ways to and from Pokhara.)
The cost excludes packaged drinks and food items from shops on the way.
Major Highlights of Mardi Himal Trek
Stunning mountain views of Annapurna, Machhapuchhre, and Dhaulagiri ranges.
Peaceful off-the-beaten-path trekking destination.
Cultural immersion in remote villages of Gurungs and Magars.
Dense forests of lush rhododendron and oak trees.
Mardi Himal Base Camp offering breathtaking views.
Overnight stay at High Camp at 3580 meters altitude.
Short trek duration of 5-7 days.